Achieve3000 provides additional resources to families, including the use of a closed, secure email system and a Learning Center where they can find additional materials to support their child's literacy development.
Home Edition Email
Parents/guardians have the ability to send emails to the Achieve team, their children, and to their children's administrators, principals, and teachers. Teachers and administrators have the option of disabling the Parent/Teacher email option. This will no longer allow parents/guardians to email teachers and administrators or allow teachers to send emails to parents/guardians.
1. From the Home Edition main page, select the Mail icon at the top of the screen
2. Then, from the Inbox tab, click Write Email.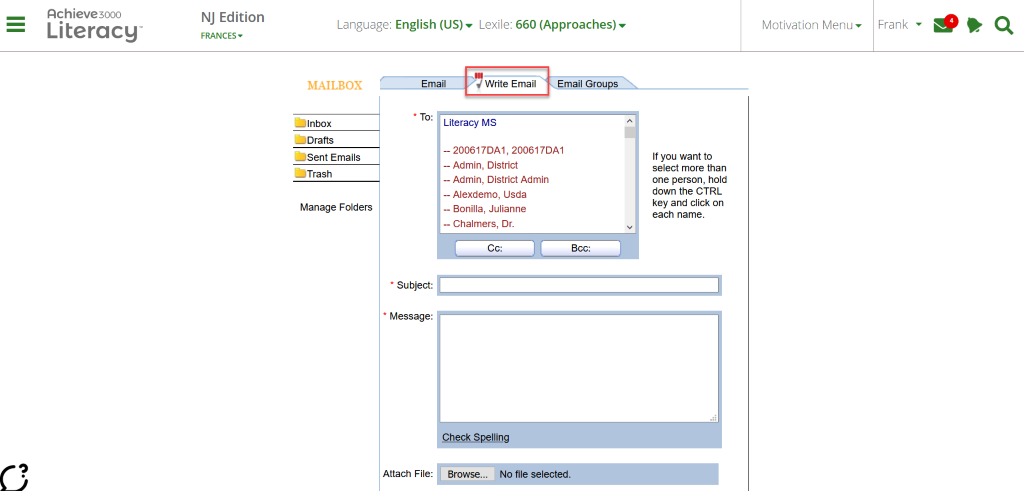 3. In the To field, select the person or group to whom you want to send the message. To select more than one person, hold down the Control or Command/Apple key on your keyboard while using your cursor to select multiple names.
4. In the Subject field, type the subject of your message.
5. Compose your message in the space provided.  Tools for spell checking and formatting are provided.
6. To attach a file, click Browse. Locate the desired file on your hard drive or network and click Open.
7. When you finish the message, click Send. A copy of the message is automatically saved in your Sent folder, unless you uncheck the Save copy in Sent Folder option at the bottom of the screen. 
8. Click OK to return to the Inbox
Home Edition Resources
In the Home Edition Learning Center, Achieve3000 provides additional resources to support families.  These can be used to supplement school instruction and extend learning beyond the typical school day.  To access the Home Edition Learning Center:
1. From the Home Edition main page, open the menu (≡) and select "Home Resources Site"
2. Here, you will find information on getting started, motivating your child, and the research that drives our solutions.