Please remove the headset (if connected) to test for sound in the Smarty Ants app
after each of the numbered steps below (except step 5):
1. Check that the volume is not muted in the control center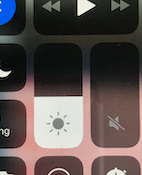 . Touch and drag up to
increase the volume

.

2. Ensure that the screen is not locked, and press the top/up volume button on the side
of the iPad to ensure that it is at a high volume which will show on the screen

.
3. Confirm that "Silent Mode" is not enabled

. Tap once on the bell to turn off silent
mode if it is enabled

.

4. For older iPads, please ensure that the "Mute" button on the side is set to off. You will
see the orange part of the switch if mute is turned on. Please turn it off (if it is on) by
toggling the button to the next position.

5. Reset the iPad - not a factory reset, just to clear the cache and close all apps - by
pressing both the "Home" button (located at the bottom of the screen) and "Power"
button (located on the top-right of the iPad) together until the device turns off.
5a. Wait about 5 seconds, remove any connected headsets and turn back on the
iPad.
5b. Log back into the iPad (if a password is required), and increase the volume using
the volume button on the side of the device.
5c. Launch the Smarty Ants app.

Note: Please confirm that you have the most current versions of Smarty Ants app installed (v1.12.5 for
the PreK-1 app, and v1.7.4 for the 2nd grade app). You can verify the version numbers by
launching each app. It will be located at the bottom of the login screen.