The Data Center can be accessed 1 of 2 ways:
Via the main toolbar by clicking the graph icon
Via the left sidebar menu by clicking the "Data Center" link

The Data Center continues to evolve as the central place for teachers to monitor student performance and Lexile progress. This year, the Data Center includes data for college and career readiness, multiple LevelSet data points, and invalid activities indicators. Teachers can also customize the columns and information contained within the dashboard to suit their individual data needs.
Move columns in Overview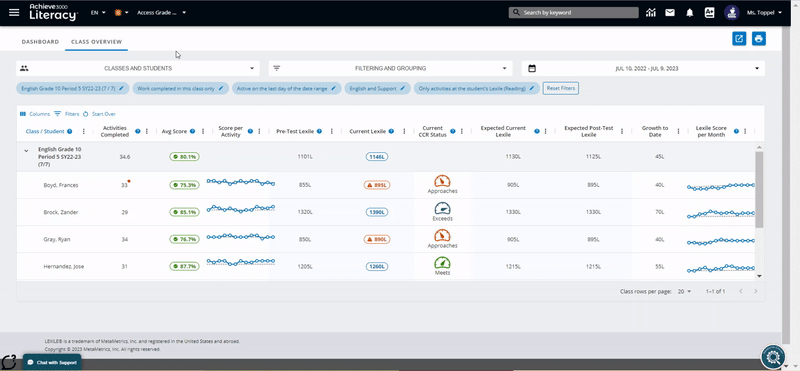 Toggle column visibility on or off
Allows you to control what you want to see & compare
Columns above class/student
Added new values as requested, like CCR Readiness, Interim test, etc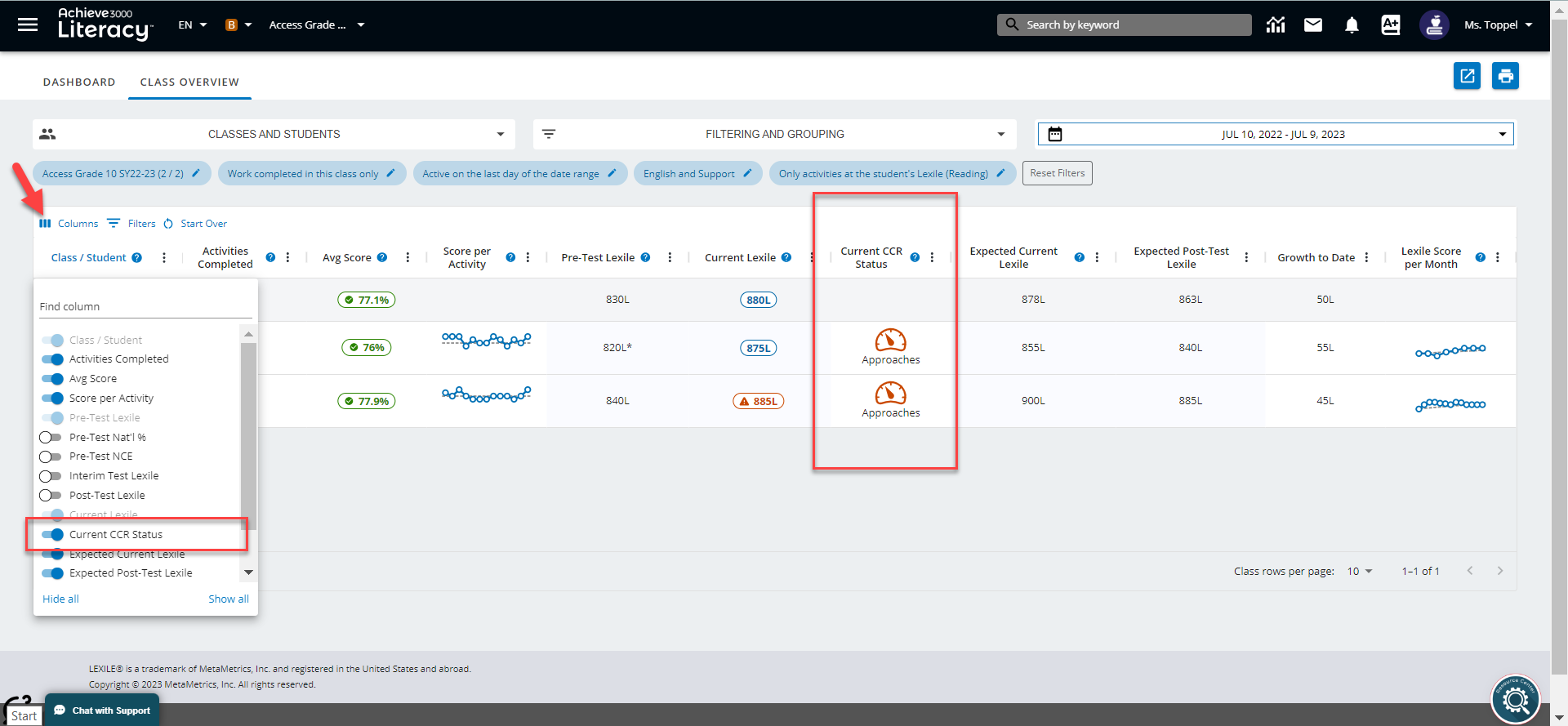 Filtering across multiple rows to identify patterns
Locate students who fit specific criteria like those who are not performing well, but are completing a lot of activities. Previously to sort through the data to find this information, you would have to manually do it via Excel. Now, you can simply select Filters!

Example: At this point in the year, I expect my students to have completed 15 activities and I also expect them to have grown by 70L or more.

This offers a new set of filters to sort through the data automatically. Labels: Column, Operator, and Value. Once selected, it will only show the students who have not met those criteria
Start Over button
Invalidity Flag (orange dot next to activities completed)
Now provides clear explanations for why an activity will not count towards adjustment!
When the Activity Tracker opens with your student's list of completed activities, you will see the lessons that were marked as invalid with an orange dot. To see the specific reason for the flag, simply hover over the orange dot with your cursor!

If you select "Activity Detail" for specific lesson, it still marks as invalid and explains why once again when you hover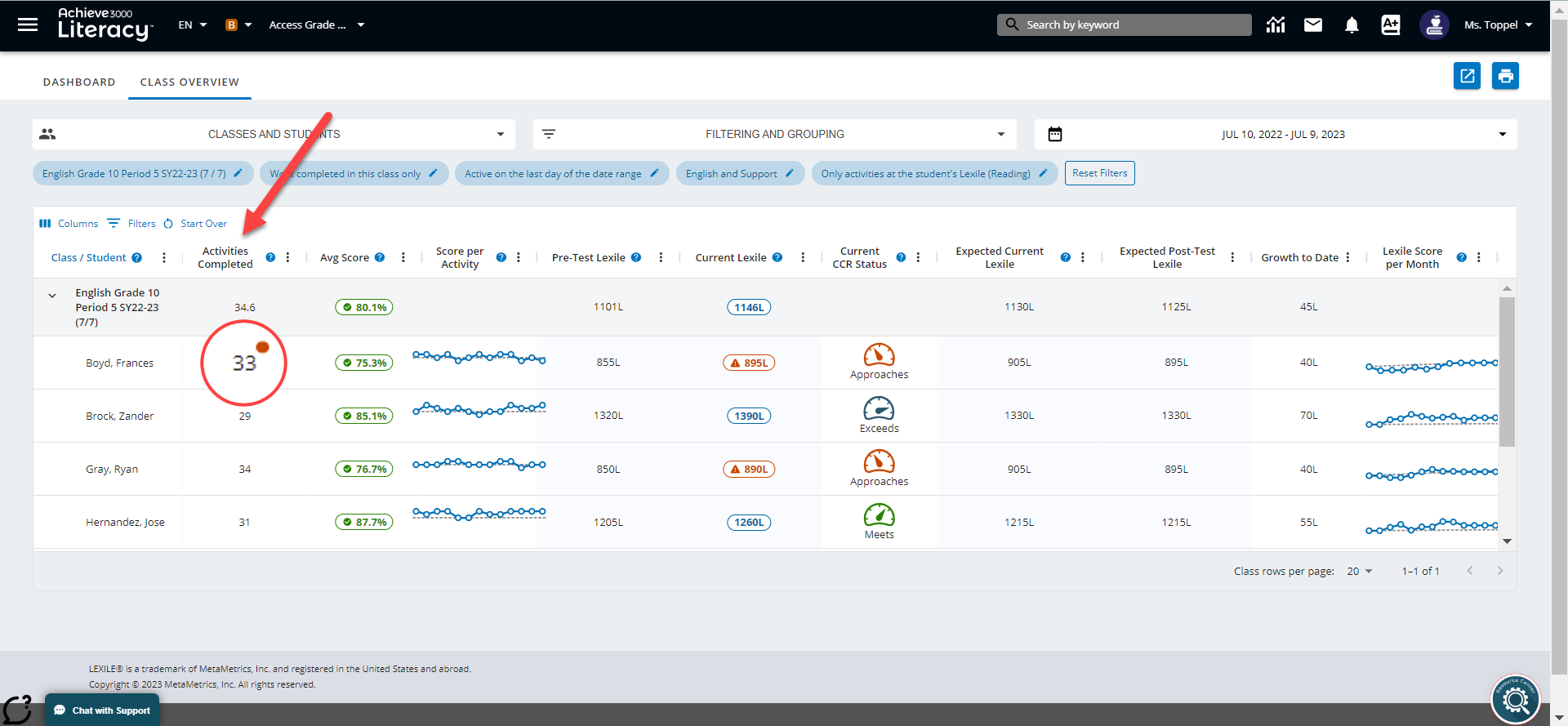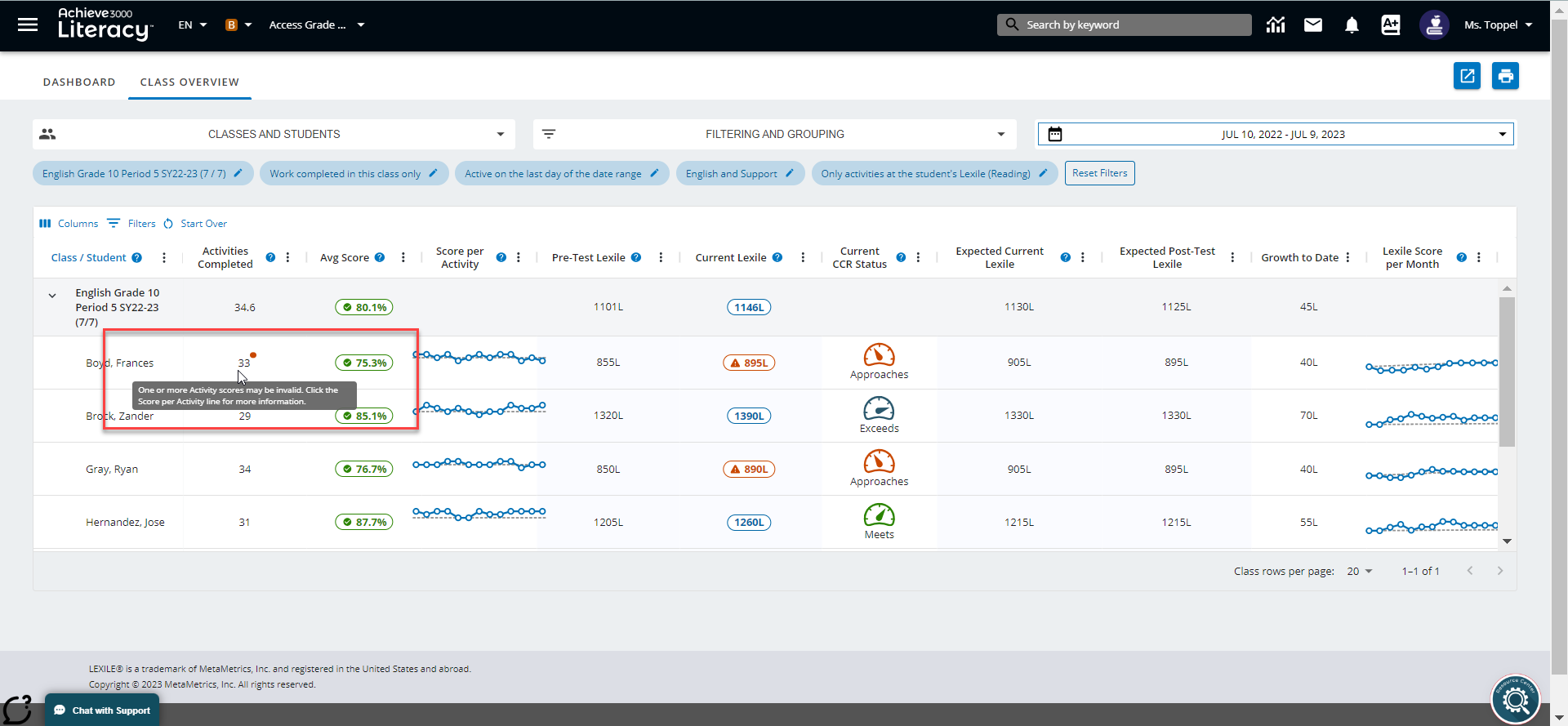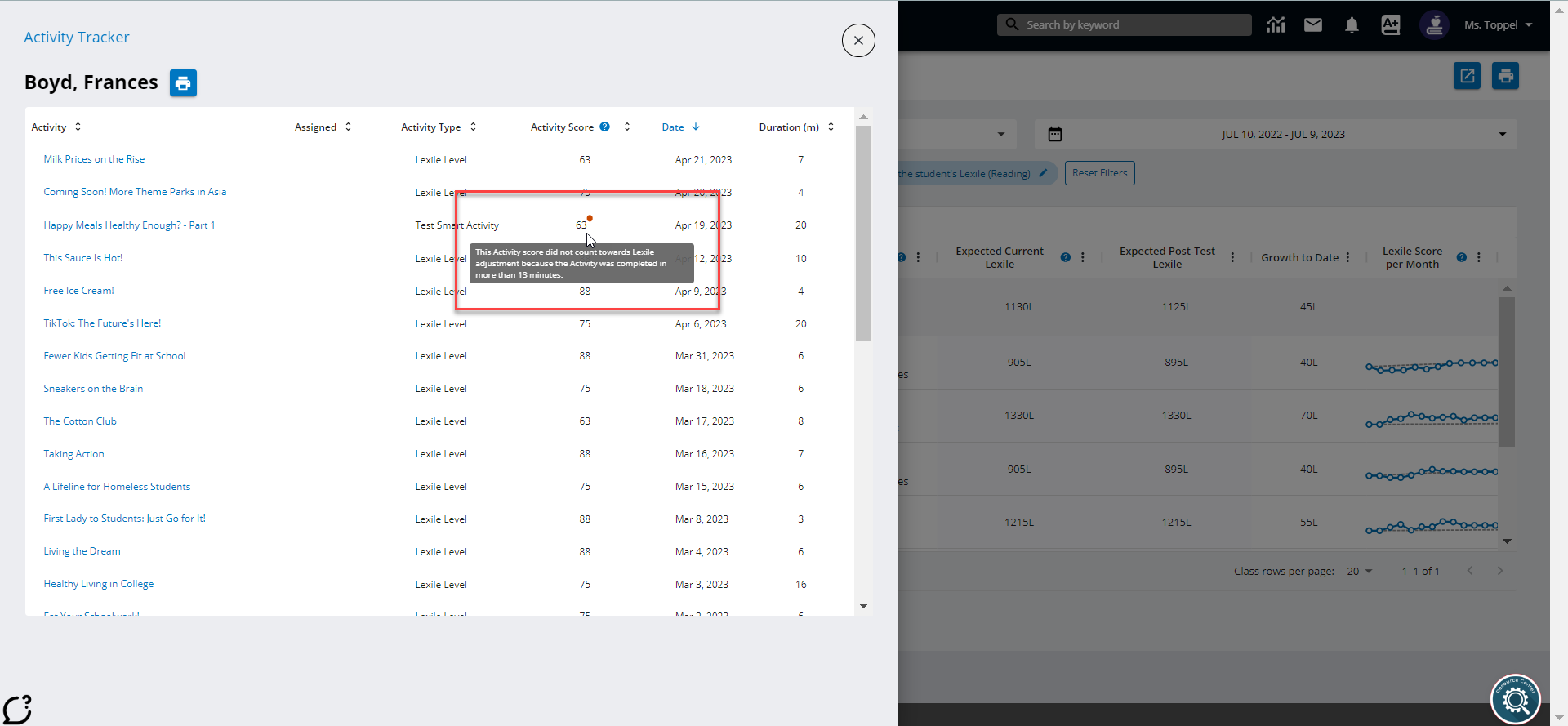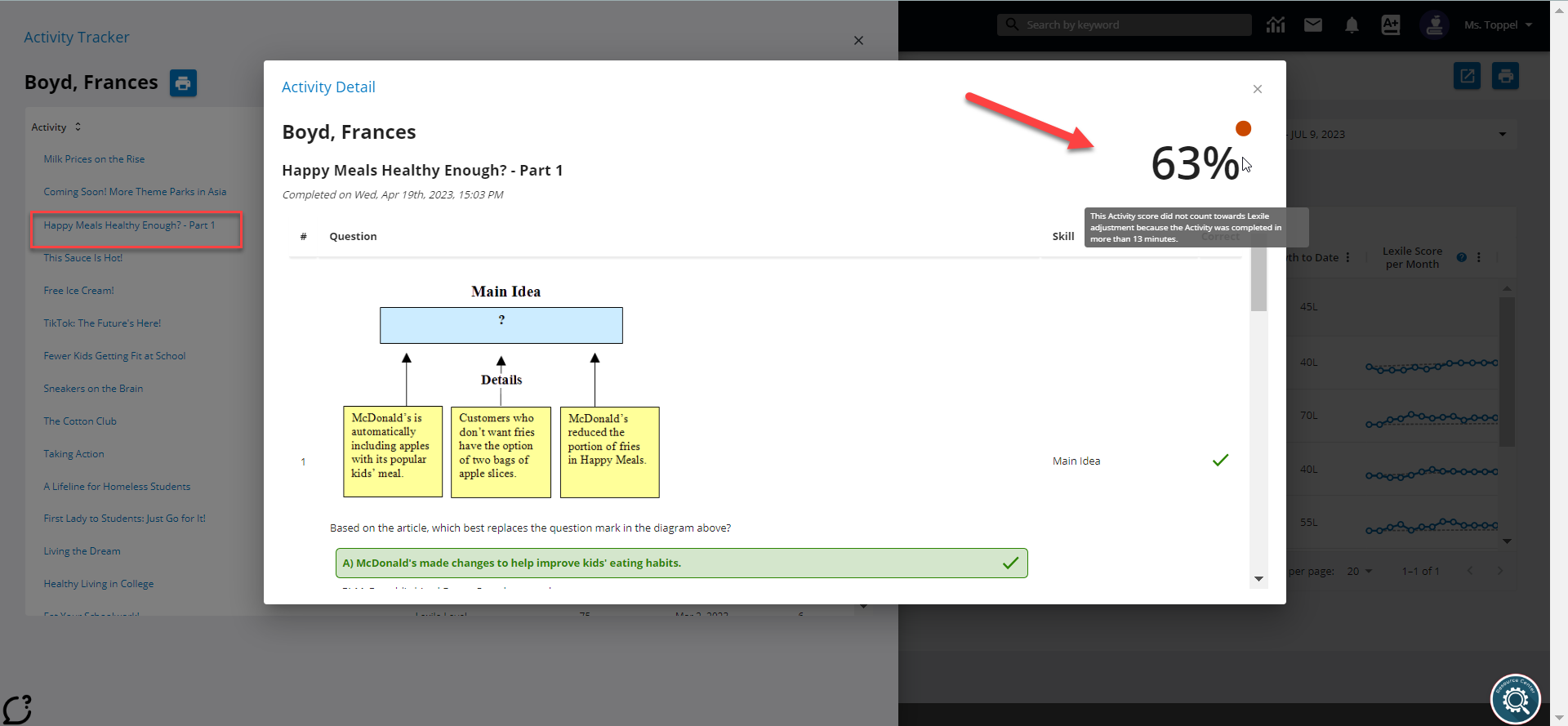 Please visit our Resource Center page (linked below) for more information regarding the Data Center! In order to access the Resource Center, you'll need to be logged into your Achieve3000 Literacy profile.