Dual Language is a setting that enables users to work in both full English & full Spanish in the same class with the same content. When a class is set to Dual Language, students will see both an English and a Spanish version of the class on their login screens. They will be able to take an English Levelset and a Spanish Levelset and will have two separate Lexile levels for each language. This setting essentially splits one class into two portions: a full English side and a full Spanish side.
Enabling Dual Language When Creating a New Class
This is the way the setup wizard should look for a Dual Language when creating a new class. Users will need to be set to the Support scaffold for the class to function properly, so it is a good practice to assign it from the start as shown here.
*Please note that if a class has already been created but needs to be adjusted to Dual Language, please contact Customer Support in order to adjust the class to Dual Language.
E

diting Class Settings for Dual Language Classrooms
Once the class is created and Dual Language is enabled, you can check "Edit Class Information" to ensure the scaffolds are correct and Dual Language is checked.
The default language for a Dual Language class is set to English. In a Dual Language class, Spanish supports will default to the English version of the program. A Student can be set to Multiple scaffolds in a Dual Language class as well. To disable a student account from having access to the Dual Language class, uncheck the box under the Dual column.
Remember to save any changes at the bottom of the screen after making your adjustments.
Teacher & Student Login View of a Dual Language Class
Dual Language students will see two versions of their class in their drop-down class selector when first logging in. The one labeled as (Español) is the Full Spanish version of the class. The student will need to select the class they wish to work in when they log in.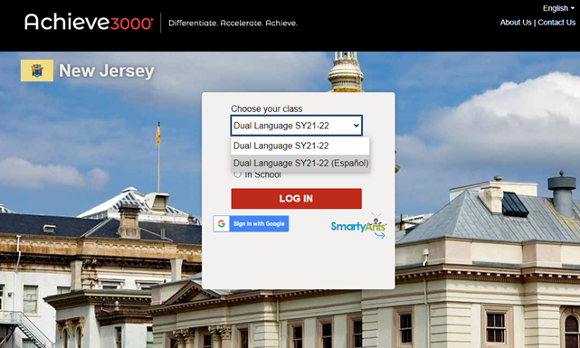 Teachers will never see the separate (Español) class for their Dual classes in the dropdown menu. Teachers can view their Full Spanish class by changing their Language selector to ES (for Español) at any time to view the Spanish content as their students are.